The father of WingTsun in Europe
Grandmaster Keith R. Kernspecht – founder and head of the EWTO
Keith R. Kernspecht discovered his passion for the martial arts and physical development at an early age. Even at school, brawling and reading as yet not widely known literature about the Asian martial arts were among his major interests.
Indeed the latter interest – to some extent encouraged by private instruction from Asian teachers - went so far that for a short period the young, self-taught grandmaster-to-be neglected his high school examination studies. It was only after training as an interpreter and serving as a police officer that the Chief Instructor of the European WingTsun Organisation studied for and passed the examination in a second run-up.
Academic study and martial arts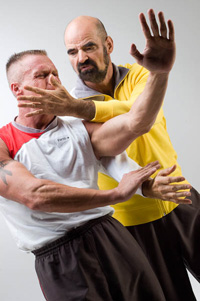 Subsequent study of classical and modern languages, philosophy, theology and law provided him with a solid basis for teaching positions in languages and sport at a high school, in commercial English at a university, in the prison service and with NATO.
But despite the many varied teaching activities that kept Kernspecht busy until 1978, he always continued his studies of the martial arts. K.R. Kernspecht already started with freestyle wrestling, catch-as-catch-can, Jiu-Jitsu and Judo in the late 1950s. These were followed by Kempo, Shaolin Kung-Fu, Shotokan and Wado-Ryu Karate, Ko-Budo, Hapkido, Tae-kwondo, Aikido, Escrima (Philippine stick and bladed weapon fighting) and various Thai martial arts disciplines. In 1967 Kernspecht founded the legendary Budo Circle, which was the first German martial arts club to devote itself to authentic Chinese Kung-Fu.
Kernspecht first came into contact with Yip Man's fighting art, probably the most efficient Chinese Kung-Fu system, in the early 1970s in the Chinese quarters of major European cities. He then made Wing Chun, which was previously completely unknown in Germany, into a separate discipline within the Budo Circle.
In 1975, on the advice of his Wing Chun master Joseph Cheng, he invited the highest Chinese WingTsun master, Leung Ting (10th level), to Germany and embarked on the road that has earned him the accolade of "Father of WingTsun in Europe". Leung Ting's 2 to 3 annual visits with seminars for instructors and students became a permanent fixture.

Since 1976 Kernspecht has been Chief Instructor of the independent EWTO (European WingTsun Organisation), which represents the Leung Ting system as the sole licensee in most European countries (with the exception of Hungary, Poland and some others).
In 2000 Grandmaster Leung Ting awarded him the 10th master grade, which only he had previously held. GM Kernspecht is honorary president of the International WingTsun Association and a lifelong director of the Ving Tsun Athletic Association.
In 1982 Kernspecht founded WingTsun Academy at Langenzell Castle near Heidelberg, creating the profession of "WingTsun teacher". He continues to work on the further development of this training programme to the present day. The flow of information for the approx. 1000 WingTsun schools is provided by the association's own magazine, a website with a magazine for members, regular information circulars, numerous seminars and the specialist literature that Grandmaster Kernspecht publishes in the EWTO's own publishing house.
University professor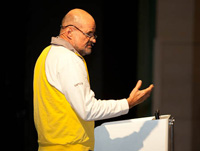 In 1993 GM Kernspecht conceived the idea of not merely teaching WingTsun in the traditional way, but to teach it scientifically and disseminate it via the universities, whereupon he reembarked on his educational studies to gain a master's degree.
By 1996 Kernspecht had already become a visiting professor for sports science at one of the world's largest sports faculties – the National Sports Academy in Sofia, Bulgaria.
He also received a visiting professorship for education and martial arts from the State University of Plovdiv, which in 1999 awarded him the first honorary doctorate in martial arts in recognition of his achievements in this field.
In 2004 the time finally arrived when together with the State University of Plovdiv and under the aegis of Prof. Dr. Margaritov, later to become Sports Minister, he was able to organise the first course of study in sports education (specialising in WingTsun) with approx. 35 German, Austrian and Swiss students. The overwhelming majority of these completed their studies with a bachelor's or master's degree, and two of them have since gone on to receive a doctorate.
In 2006 GM Kernspecht, who had meanwhile become an honorary member of the University's academic council, was awarded an honorary professorship by the Sports Academy in Sofia.
In 2009 GM Kernspecht passed the highest state examination for a full doctorate.
From the summer/autumn of 2012 Kernspecht has planned academic courses of study with English and Bulgarian universities for bachelor degrees in "Theory & Practice of the Martial Arts" and master degrees in "Theory & Practice of WingTsun".
Although Kernspecht teaches almost every day of the week, he still finds time for international activities in support of the martial arts. For example, he is working on a personal research project whose purpose is to find alternative ways of "defusing potentially violent situations". Moreover, this research is far from being mere theory. It has demonstrably proved its worth in the day-to-day work of the elite European police units to which he is a permanent consultant.
In his books "BlitzDefence – Attack is the best defence", "The last shall be first" and the "Fightlogic" volumes, Kernspecht now also makes it possible for interested laymen to benefit from his knowledge about violence prevention.
Keith R. Kernspecht is also a member of international associations of university teachers who are also martial arts instructors. They come together regularly with the aim of raising the martial arts to a scientific level.