2017 International Seminar – Strategy not Techniques
Three action-packed days at the 2017 International Seminar began almost exactly four weeks ago. Time for a brief review of what this Whit weekend in Hockenheim had to offer.
The hustle and bustle began on Saturday, with the registration desk the first port of call. School owners who had already arrived on Friday for the Leadership Congress had the advantage of completing the formalities then, and now had more time to sleep or enjoy a leisurely breakfast.
The seminar began at 9 a.m.: a brief welcome, some general information about the programme of events – and everybody headed for the classes they had opted for.
Many did not have far to go, as they were able to stay in the Great Room of Hockenheim Stadthalle to revise and improve their forms with Grandmaster Giuseppe Schembri. This time it was not the technical sequence that was on the agenda, but rather gaining as much benefit as possible from the forms for one's movements by means of strategically clever learning. This was an eye-opening experience for many – and not just for student grades. Masters also  experienced the forms in a new way, namely as a means of practicing and enriching their iWT. During the course of the day GM Schembri also covered ChiSao, LatSao, flowing with the opponent and dealing with resistance. This content was repeated on the following days, so that everybody had the chance to learn from GM G. Schembri according to their grades.
For the first time in an international seminar, masters and prospective masters were able to practice their long pole and double knives programme, and obtain useful hints. Previously this had been reserved for the weapons seminar on Easter Monday, for small groups or for private lessons.
The other teachers and instructors also repeated their subject matter each day, so that the participants did not have to leave anything out.
Under the headings of Blitzfight and BlitzDefence, grandmasters Oliver König and Thomas Schrön presented grappling and stand-up techniques, drills for striking and kicking power at various levels, an anti-ambush programme and self-defence strategies on the ground for students to practice. This was a twin package of technical skills for routine incidents coupled with survival strategies. The multi-purpose hall, which had been specially equipped with mats for the seminar, was very well attended all the time – and to the amazement of GM O. König, especially for the last session of each day. The explanation for this came from a participant who was asked why: "Because this is all about action and putting the power on. If you did this during one of the first sessions of the day, you would be too exhausted for the other sessions and would learn very little. That's why I opted for this last session of the day. Then it's off to take a shower and fall into bed. But next morning I'm raring to go again." That too could be called a strategy …
Grandmaster Keith R. Kernspecht had a lot more of this to offer. In his classes, the focus was on both learning and fighting strategies. Thanks to the iWT he has developed, it is now at last possible not to base learning of the necessary fighting movements on pure chance, on individual cases or on 40 years of martial arts experience. All participants from the 2nd HG upwards were able to benefit from this boost to their knowledge. This was an ideal way for Grandmaster Kernspecht to reach many of his instructor grades, who are now able to pass on their newly acquired knowledge to students in their schools. Naturally this can only have a positive effect on the quality standards in their classes, and therefore on faster the achievement of self-defence capabilities. So the participants listened intently to his explanations on opening and closing, pulling and pushing, defence circles, convex and concave, balls and the five elements. And how to gain, maintain or regain the upper hand. All this is not a matter of techniques, but of strategy.
| | | |
| --- | --- | --- |
| | | |
Naturally the International Seminar would also be unthinkable without three to four intensive Escrima classes each day under Grandmaster Bill Newman and his team. They had once again chosen the playground of the adjacent Pestalozzi School as their training ground, and depending on grading, they set to work with sticks, kubotans, tonfas, knives, Escrima staves and swords.
The seminar was an occasion that gave GM Bill Newman particular pleasure, as he was able to welcome two new 3rd HGs into the Escrima ranks during the evening event. In addition Falk Welker received his certificate for the 5th master grade in Escrima. But the greatest highlight was that he was able to congratulate his longstanding student Bernd Hoyer on achieving his 7th master grade in Escrima. Huge applause not only from GM Newman himself, but from the entire gathering.
The seminar programme was rounded off by a number of other classes. Master Jürgen Kestner and Dr. Hubert Beitler covered the aspects of maintaining physical and mental balance under extreme stress. The extreme stress was generated in various different ways – one of them being loud disco music. Remaining concentrated and capable of action was not that easy at all.
At least there was a little relaxation to be had with the ChiKung team, as they not only demonstrated physical exercises for a strong centre, but also showed how to produce mental balance. As usual, masters Constantin Mock, Regula Schembri and Petra Weipert had plenty of strengthening, stretching and relaxation exercises to offer. This time the emphasis during training was on a strong and stable yet flexible centre. And not on the larger muscle groups, but rather on the smaller, stabilising holding muscles, which are so often neglected – but are of enormous importance in WingTsun. It is not for nothing that GM Kernspecht always emphasises the importance of the torso.
For 4th HGs and above, i.e. for all masters and prospective masters, Natalie taught the solo exercises in iWT. This covered the same aspects as those of Grandmaster Keith R. Kernspecht, except that there were no training partners who might disturb the concentration and meditation in motion. After all, there was plenty to coordinate: two arms, the physical unity, the breathing and much more besides …
Those who wanted to go on a further tour of discovery through their body and mind had the opportunity during the introductory course on Sensory Awareness with Sascha Rimasch. It is always amazing to find out what can be discovered even during a short time, and how refreshing it can be. Over the years the WingTsun community of sensory awareness fans has grown constantly.
Kids WingTsun classes were also once again available in the mornings for children whose parents were taking part in the International Seminar. The WingTsun youngsters had a great deal of fun, and were able to romp to their heart's content under the guidance of Kids WingTsun specialist instructor Sifu Rüdiger Uhrig and his assistant. The highlights for the kids were of course the visits to the five grandmasters, all of whom took a little time out from their classes and even posed for souvenir photos with the kids.
After two days of so much intensive learning, everybody had earned a little relaxation. And where better than during the evening event? A champagne reception to set the mood, a superb buffet strengthen the spirit, a cool, refreshing drink and then lean back to enjoy the programme for the evening. The WingTsun entertainment was provided by Master Ahmed Al-Jabaji & Oliver Murbach from Switzerland. This was shades of Darth Vader and his light-sabre – a completely new scenario for the long pole form. Other well-choreographed WingTsun performances by the two followed, but in the end they were defeated by the intervention of Mister Spock alias GM Giuseppe Schembri.
Naturally the evening event was also the time for honours and certificates: anniversary honours for 35 years in the EWTO, Sifu appointments, the presentation of new WingTsun and Escrima masters in the EWTO.
It was then time to clear the stage for the magician Frank Lupo. He was already known to many from his performances at previous International Seminars, and during the champagne reception and later on he dumbfounded many a person at his card table. Now the stage was his, and he was rewarded with plenty of applause for his show.
After a short scene-change it was time to pass the baton to Eventpartner, whose foot-tapping music ensured that none of the guests at the evening event remained in their seats for long. Despite a very active day's training, the dancing went on until the early hours and was interrupted only by short breaks during which one could disappear in the photo booth, where amusing souvenir photos could be taken alone or with friends using a number of accessories laid out for the purpose.
Next morning many must have found it hard to get up after that long night, but the training went on unabated. As usual the seminar was concluded with the presentation of grading certificates to those who had taken an examination during the three days of the International Seminar. Congratulations to them all!
Nor must we forget to thank all the organisers and helpers of the EWTO team. While there was not the same mammoth programme of events compared to last year's 40 Years of the EWTO event, the restructuring of the teaching and class format meant that new challenges had to be overcome. And it all worked superbly! Very well done to all!
We can look forward expectantly to the next International Seminar! See you there!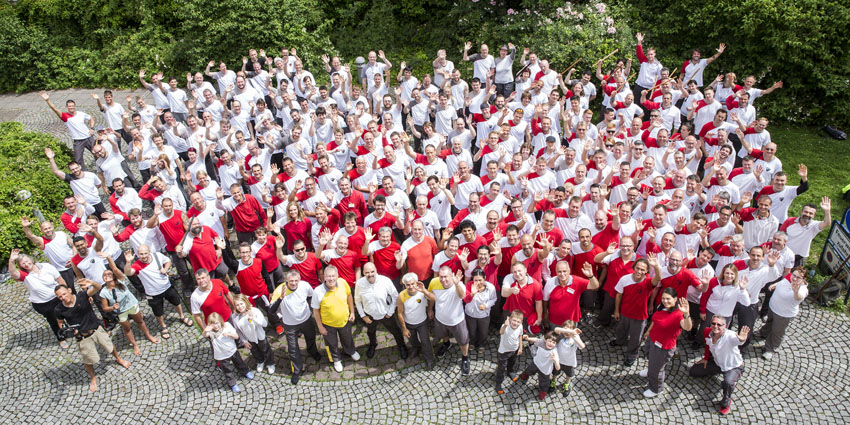 Text: hm
Photos: mg/js/hm