25 EWTO-Anniversary in Bulgaria
This year we celebrate 25 years since the first seminar with the EWTO team at the Plovdiv University.
We addressed a few questions to master Stanislav Bagalev, 6th Grade WT about the long way through the years of spreading WingTsun in Bulgaria.
Stanislav, what's your martial arts story?
 I was born in 1972 Sofia and I started training martial arts in 1982 under the tutelage of Krasimir  Dimitrov "The Chinese". He was one of the most accomplished martial artists in Bulgaria. He was proficient in Karate, Taekwondo, Kung Fu, Taichi and other martial styles. At that time, he was part of the Special forces unit.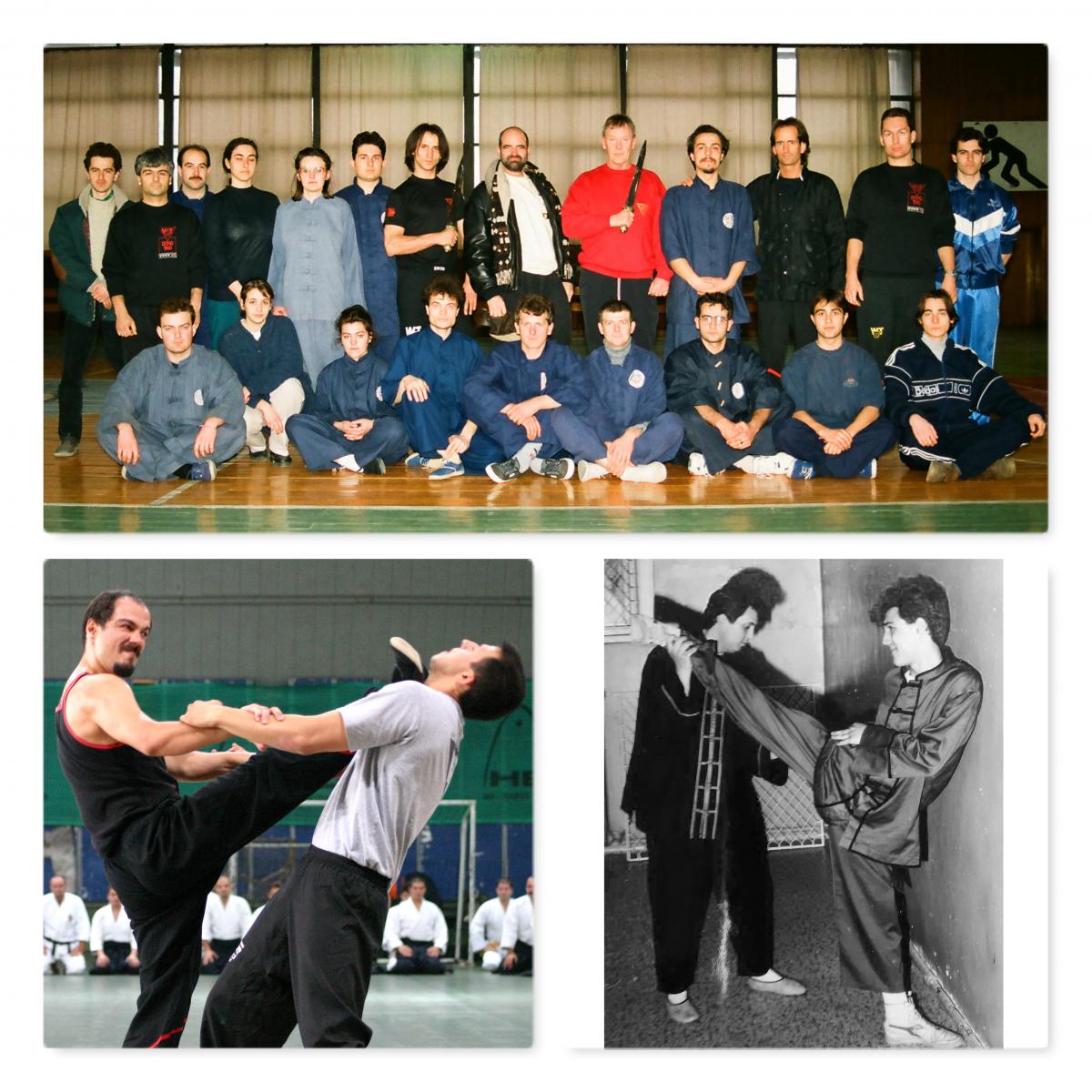 Back then martial arts were forbidden and nearly no one could practice due to the restrictions laid down by the communist party. They were afraid that someone could rally up against the government. Only the police and the special forces were allowed to train martial arts.
 I started my training in a secret group and sometimes only at one to one lessons. I had the chanse, because Krasimir Dimitrov was a close friend of my father and that's why he allowed me to train under him. He was well versed in Chinese language and culture which sparked my interest of the Chinese martial arts  - Kung – fu, Taichi, and of course WingTsun.
What was the situation like in Bulgaria back then? With regard to self-defense and martial arts?
 During the communist time there were really heavy restrictions for everyone and to train martial arts was forbidden . You couldn't  talk to anyone that you do something like that.  I was living in a part of Sofia, Liulin, can't say it was the safest place. I had to fight sometimes after school clases on my way home with small gangs.
 For me then the martial arts were not only part of my imagination, but I had to use them out of nescessity to survive. There were quite developed Boxing, Wrestling and Sambo teams. Chinese martial that time were not so famous even there was not any information on the matter.
 We had secret video tapes and secret books that we shared between each other to learn more. Those were very hard times, with less to no information, but at the time I was training very hard, kicking and punching, training with some friends secretly just to improve my skills.
How did your WT story begin? How did you come to WT? Why WT?
I choose WingTsun because of its practical approach, fast and smart combinations that at the  time I could learn and  use for self-defense on the street. I trained WingTsun with some friends who were part of the EWTO, I have participated in two seminars with GM Leung Ting in Bulgaria, Sofia at 1989 and 1990.
Your first school. Where was it and when did you open it? What kind of problems had to be solved?
After 1989 everything in Bulgaria changed as the communist party fell out of power. Those were difficult times for everybody. When I graduated high school I applied for the Academy of Fine Arts, but there were only six places and over seven hundred participants for exam.  I couldn't get in, but right after that I was offered a position as a teacher of Chinese martial arts at the Plovdiv State University. That was a great opportunity for me to study Bulgarian Philology  and to teach at the same time  Chinese martial arts at the State University.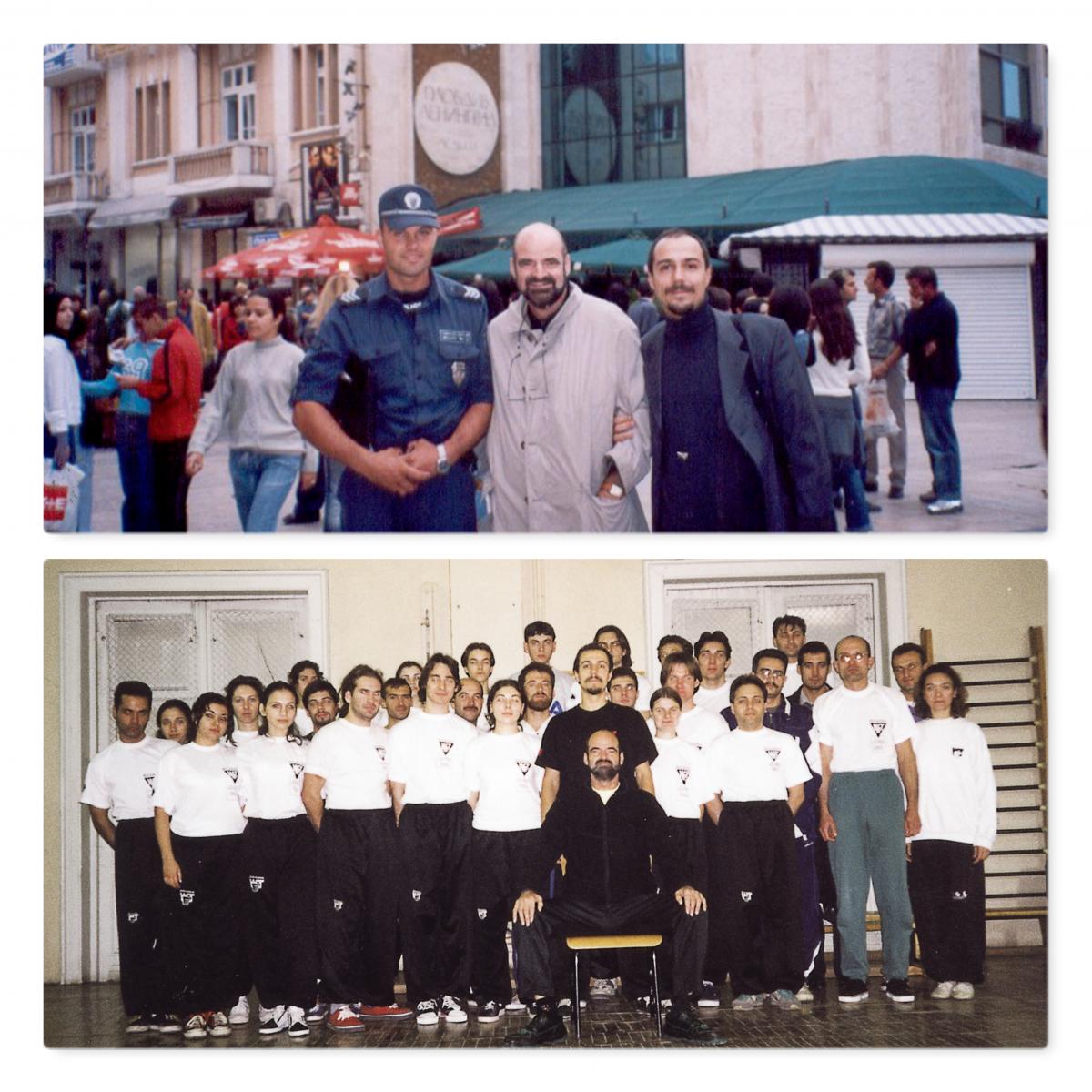 During my study I started to teach for the period of five semesters Chinese martial art at the faculty of Qualification. I tought  Yang and Chen Taichi Chan,  Taichi Sword, Shaolin, Shaolin weapons and WingTsun.  
Back then the university was the only State University in Europe which had lections and practical part for martial arts in its  educational/ university  program. That's why Grandmaster Kernspecht established a contact with the University in 1995 and in 1986 there  was a big delegation from EWTO.
The members of the delegation were Grandmaster Kernspecht, Grandmaster Bill Newman, Sifu Oliver, Sifu Giuseppe,  Sifu Roland and Sifu Heinrich. They came at 20 of March 1996 and they made a great demonstration lection and presentation in front of all the university students.
I was with some of the students. We did a presentation of our skills and all the masters were impressed. At the evening of the same day Grandmaster Kernspecht made a special seminar at the Plovdiv University hall, after which we decided to make a branch of EWTO in Bulgaria thus establishing the university WingTsun club at  the Plovdiv University.
 At that seminar Grantmaster Kernspecht accept me as his private student and I was extreamly excited to be part of this amazing lineage of tradition. This was the first University and WingTsun club in Europe.  
In 1998 after the army I decide to become a professional martial arts teacher and started focusing to develop WingTsun in the whole country.
I had a good connection with some journalists so I started a TV show every month only for WingTsun on a private TV channel. I had a radio show for martial arts and articles in the newspapers, every weekend they were publishing pictures for self-defense.
From 1999 as a 1. TG I start to do different demonstrations and presentations for WingTun in the whole country. During that period I had more than 12 successful schools and instructors In the different cities – Sofia, Plovdiv, Russe, Dobrich, Varna, Burgas, Stara Zagora, Haskovo, Dimitrovgrad, Vidin, Montana, Karlovo, Yambol, Svilengrad …
What was it like to introduce a Chinese martial art in a country where wrestling has such a great tradition, where even the shop-window dummy make "big arms"? Did you have to prove yourself?  Were there any challenges or something like that?
During the day in the army occasionally I had to prove my skills because there's so many people who are trainig different martial arts like wrestling and boxing in the army.  Everyone were wondering what is WingTsun and is it working at all. I had my opportunity to prove its worth and so I did.
There were so many people who had experience in different martial arts in Bulgaria. They wanted to see how WingTsun is working, there were many fighting situations where we had to prove that WingTsun is working …
Some of my students were ex-boxers or ex-wrestlers champions or even part of the special forces army and the police. Those were very tough guys who were impressed of the fast and strong decisions that WT can manage in a second.
During these years we work with the police special forces and the army special forces - We did some open training with Grandmaster Kernspecht and Grandmaster Bill in Sofia with the Police special forces team.
What do you think about the development of the WT over the years?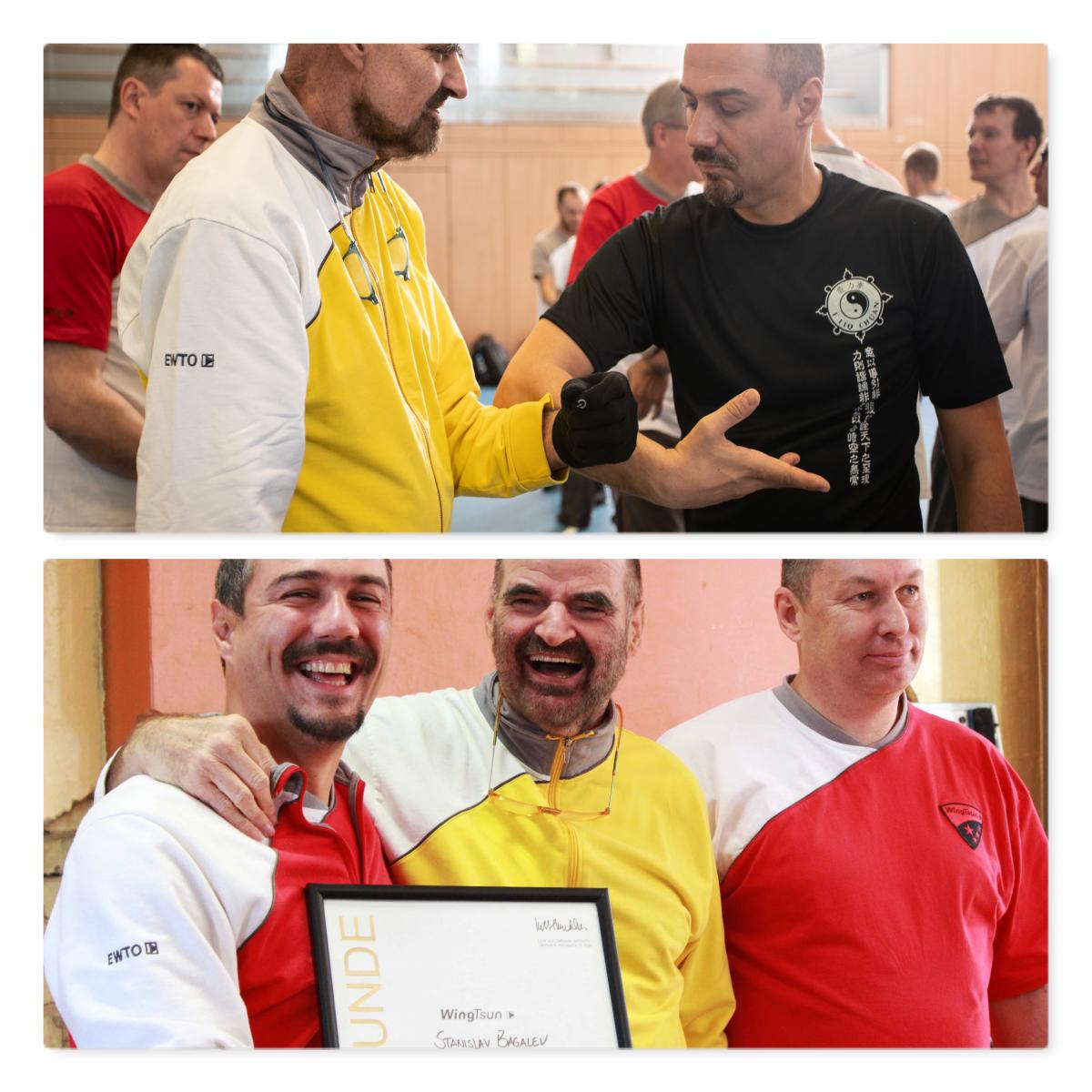 WingTsun changed a lot during the years. I started 1990 with WingTsun and since 1996 under GM Kernspecht. I was witness of the all changes and new directions, the development and re-discovering of the hidden elements of the system. Si-Fu Kernspecht is a man with a vision and with open mind for discovering the deep meaning of the tradition. In the Chinese martial arts, a lot of the ideas are really hidden and if you don't have the right teacher or the right key, you can't open the close door that is in front of you. Now I am very happy of all the new/old ideas that we have now in the system. Now I feel much more confident of the knowledge that we teach and the way that we understand the past. This is a great journey of developing and re-discovering.
How has Covid affected your work?
During the pandemic time we have the chance to train in small groups live, because we have a sport club, which is a part of the Federation of Wushu and the government has decided to allow those registered in a sports club to practice freely.  
We did a lot of online lessons too. I did more than 600 training videos to help the students to practice at home and continue being a be part of EWTO-Bulgaria.
Is there anything else you want to tell?
WingTsun for me is not only a job, but it is a passion, part of my discovery of the philosophy, tradition, knowledge about the spirit, the energy. How the inner and external can be together in your live.
I would like to express my gratitude to all my teachers and specially to Grandmaster Kernspecht for all those years of teaching and motivation!
I am proud to be part of EWTO!
Interview: mg/wtw
Pictures: EWTO-Bulgaria/EWTO