Obituary – Kaicho Jon Bluming
One day before the funeral of my student Uwe Kopplin, 8th MG WingTsun, the sad news reached us that Kaicho Jon Bluming had passed away. He died on 17.12.2018 at the age of 85.
The death of Kaicho Jon Bluming has deprived the martial arts world of one of its greatest teachers and fighters.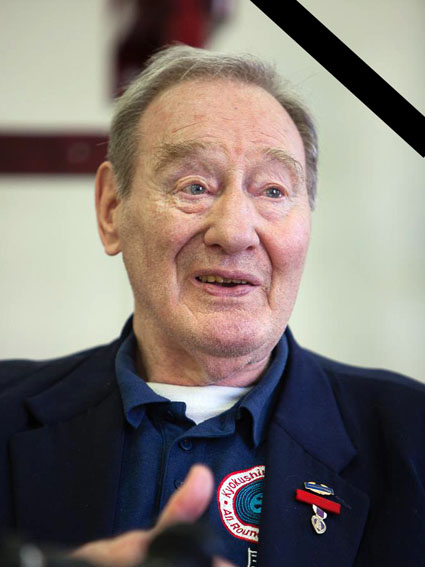 Jon Bluming was one of the most outstanding amongst all the remarkable masters I have encountered, and from whom I was privileged to learn, during the course of my 60-year journey through the world of martial arts. He was a great example to me as a martial artist, and I was guided by his convictions when I brought WingTsun, Escrima and Bruce Lee's non-classical KungFu to Europe and Germany in the 1970s. I am very proud of being able to call him my "Sensei".
Jon Bluming was born in Amsterdam in 1933. During the hard times in the Second World War, he had to learn very early on how to survive in the streets. It is not for nothing that his autobiography has the subtitle "From Street Kid to 10th Dan Oyama-Karate". At the early age of 13 he began to learn boxing, and when he reached 17 he applied to join the marines in the Dutch armed forces. Along with just one other young man, he passed the extremely stringent selection process which had excluded over 2500 other applicants. In 1950 Bluming was sent to the Korean War as a member of the UN armed forces. This is where he came into contact with the Asian martial arts, which immediately fascinated him. After all, he had never seen anything like this in his home country.
Bluming was wounded three times during the war. During a convalescence in Tokyo he visited numerous martial arts schools, including the world-famous Kodokan founded in 1882 by Kano Jigoro, the founder of Judo. In 1953 this is where he attended a demonstration by Kyuzo Mifune, probably the best-known judoka after Kano, which greatly impressed him.
After his return to the Netherlands, Jon Bluming began his Judo training under Gerhard F. M. "Grandpa" Schutte, who has founded the Netherlands Amateur Judo Association (NAJA) in 1950. This later merged with other Judo associations to become the Netherlands Judo Association.
After three years of training Bluming passed the examination for 1st Dan, receiving the 2nd Dan in 1955. In 1957 he was appointed as coach to the Dutch national Judo team. In the same year he was awarded the 3rd Dan by Tokyo Hirano after defeating 75 judokas ranging from 4th Kyu to 4th Dan within 26 minutes, with a broken toe.
 
In 1959 Jon Bluming moved to Japan to devote himself entirely to the martial arts. In Tokyo he lived and trained with e.g. Donn F. Draeger, one of the pioneers of Japanese martial arts in the USA and the author of numerous Budo classics. In the same year he was accepted into the famous Kenshusei, a special class for the 25 best members of the Judo institute headed by Kyuzo Mifune.
Bluming later extended his martial arts studies and found Kyokushin Karate under the legendary Mas Oyama, whose master student he became. He was heavily involved in building up the International Karate Organization (IKO), and the first non-Japanese permitted to teach Karate in its country of origin.
In 1965 Bluming was the first foreigner to be awarded the 6th Dan in Kyokushin Karate by Oyama.
In 1989 he was awarded the 9th Dan, and in 1994, after the death of Mas Oyama, Kenji Kurosaki awarded him the 10th Dan.
Jon Bluming was one of the world's most highly graduated and recognised Judo and Karate masters.
Bluming brought Kyokushinkai to Europe, founding the Nederlandse Karate Associatie (NKA) in 1962, the European Karate Organisation (EKO) in 1968 and the International Budo Kaikan (IBK) in 1996 after leaving the IKO.
During his lifelong study of the Budo arts, practical applicability in real combat was always the top priority for Jon Bluming. Handed-down traditions as the only seal of quality were never enough for him. Everything had to be verified in real combat.
It is therefore no wonder that Jon Bluming is regarded as the "Father of Mixed Martial Arts". In an interview he once said: "What I teach is neither Kodokan Judo nor Kyokushin-Kai Karate, but rather a mixture of one third Karate and Thai boxing, one third throwing techniques – I teach seven different throws – and one third basics. All in all, this completes the circle of unarmed combat."
Success was to prove Bluming right: his internationally best-known students include Olympic Champion Willem Ruska, Sambo World Champion Chris Dolman and K1 Champion Semmy Schilt.
Jon Bluming was already a legend in his own lifetime. He was one of only very few who made such a great contribution to the Japanese martial arts, and is also highly respected in Japan. In the middle of the last century, Bluming was already setting the scene for the development of martial arts in the 21st, influencing generations of the best martial artists of our time.
His contribution has made him immortal.
OSU, Kaicho Jon Bluming!
K. R. Kernspecht
 
PS:
To all those who want to know more about the life of this extraordinary martial arts legend, I recommend his autobiography: "The History of Jon Bluming – From Street Kid to 10th Dan Oyama-Karate".