Zhong Xin Dao the 3rd discipline in the EWTO – WingTsun people, students and an honorary professor
On 11th November 2017 at noon, Grandmaster Keith R. Kernspecht revealed the secret he had been keeping carefully over three years. The speculation and waiting came to an end in Kiel, when a highly unusual seminar began in the local trainer academy – with the mysterious "Puppetmaster".
WingTsun people
For the first time Grandmaster Keith R. Kernspecht introduced his own attending disciples to the very latest source of inspiration, the grandmaster of Zhong Xin Dao GM Sam Chin, in person. Silence fell when the two entered the room, and all eyes followed them. Then the time had come: GM Kernspecht welcomed the participants and briefly introduced his guest GM Sam Chin and his son Hsin Chin. Then WingTsun grandmaster Kernspecht gave the floor to the Zhong-Xin-Dao grandmaster Sam Chin.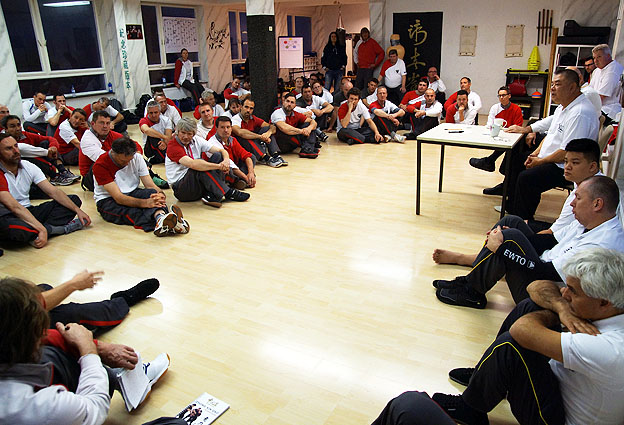 He began with a short theoretical description of what Zhong Xin Dao/Sam Chin Way is about, before entering into some the practical exercises. Thanks to translation into German by Sifu Alexander Olich, national instructor for Cyprus, all the participants were able to follow the English explanations and instructions without difficulty.
The participants had already registered for this seminar a long time beforehand, and had come from all over Germany, Switzerland, Austria and Cyprus without knowing precisely what they had let themselves in for. They all came away delighted, however. With his charismatic manner, GM Sam Chin made sure of an inspiring class which gave everybody a new understanding to take home with them. He answered questions patiently, and he and his son repeatedly checked the progress being made during the exercises.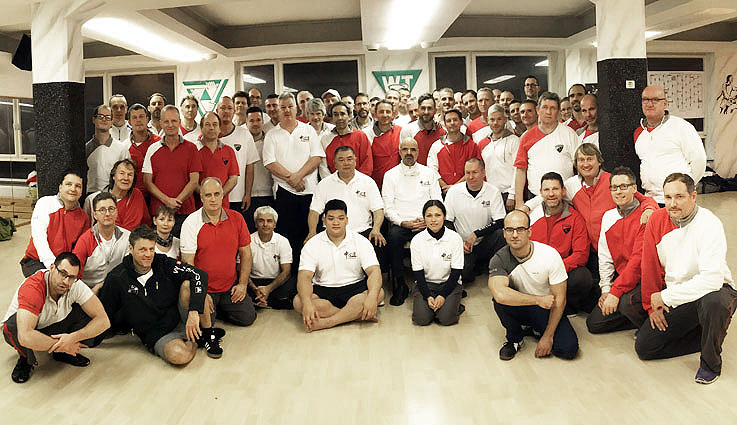 On Sunday the second seminar with GM Sam Chin took place in Norderstedt. Once again the participants were enthusiastic about his explanations and above all the effective exercises. They were sometimes amazed at the very little external force required to achieve such a telling effect. Again and again GM Chin, his son and also Natalie, who has meanwhile become a certified teacher of Zhong Xin Dao, demonstrated the energy flow with which this becomes possible.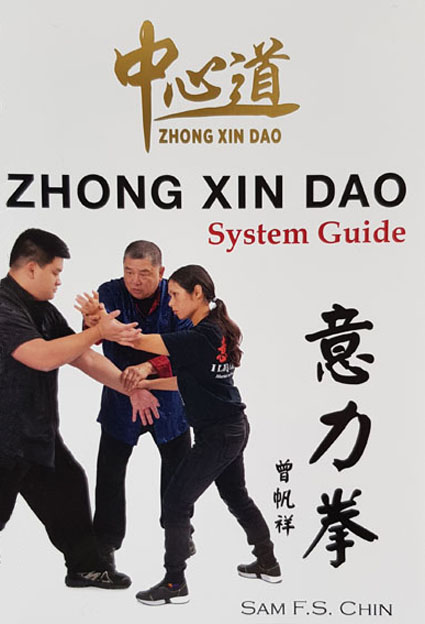 The participants in Kiel and later in Norderstedt and Plovdiv were able to acquire the German-language book "Zhong Xin Dao – System Guide", which provides the basis for study.
Here is some participant feedback that speaks for itself:
GM Giuseppe Schembri (9th Level WT):
"GM Sam Chin is a very charismatic and sincere master of his art. You can feel the joy he derives from what he does. It all comes from the heart. He trains with everyone, and lets everyone feel it. Many thanks to GM Chin and his son for sharing their great knowledge with us."
DaiSifu Frank Schmalz (8th Level WT):
"For me ZXD, this great art of awareness based on Taiji principles, is not meant as a replacement for the martially orientated WT, but rather very good supplementary physical and energetic schooling."
Michael König (6th Level WT):
"One very gratifying achievement for me was that while being corrected by Grandmaster Chin, I was able to improve my pulling and pressure structure to the extent that it was no longer so easy to pull me.
I certainly came away with very positive impressions of this seminar. In a scientific way, Grandmaster Chin taught an effective way of thinking and moving with mindfulness. The here and now, the present moment, is at the forefront of his system. I recognised similarities with inner WingTsun, and believe that we will profit from this system. My wife Swantje and I would very much like to learn it."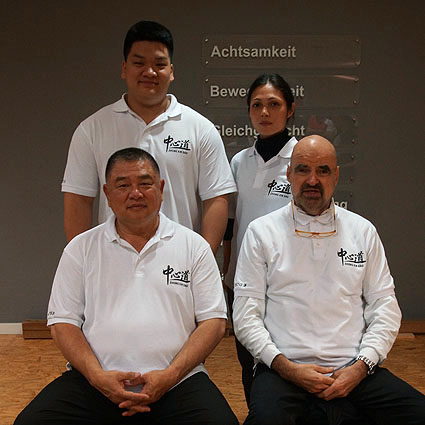 Petra Weipert (5th Level WT, ChiKung team):
"Very interesting ideas for one's own mindfulness, and 'being there right at the moment'."
Stefan Fiege (5th Level WT):
"Exciting new experiences, fascinating discoveries that open up quite new dimensions, as well as very nice people and lots of fun: couldn't have been better!
Many thanks to GM Sam Chin for the superb seminar and the introduction to the principles of Zhong Xin Dao, with which we can become even better, more effective and unique!"
Ulrike Kühnhold (2nd Level WT):
"The theory at the beginning was very interesting. In the subsequent practical session I tried to practice the exercises set by GM Sam with my training partner. When GM Sam came over and showed me something, I felt I was moving very lightly although I have a spinal ailment and am very restricted in my movements. Being shown an exercise by a grandmaster is certainly super!
Immediately after the exercise with GM Sam Chin, my training partner from Kiel managed once to transfer energy through my arms and pelvis down to my calves. As I am partially paralysed, this was a small miracle – and only came after GM Sam's instruction.
Towards the end of the seminar we were able to ask questions. One answer affected me greatly: GM Chin said that Zhog Xin Dao is not a style, but rather pure physics and biomechanics. For me physics goes hand in hand with provability. GM Kernspecht wrote in a Tweet that ZXD follows biomechanical principles. I find this is very reassuring, as I also very much like the explainability of WT." 
Uwe Kronberg (2nd Level WT):
"A super seminar with GM Sam Chin that more than exceeded my expectations. It was very impressive to feel for oneself how GM Chin transfers his energy directly into the body. Zhong Xin Dao is an ingenious system, and enriches our iWingTsun. I am looking forward to more exciting seminars with GM Sam Chin and Natalie."
Alexander Spang (2nd Level WT):
"Grandiose start for Zhong Xin Dao in Kiel with the very lively and present Grandmaster Sam Chin, who amazed everyone with his extraordinary skill and readily shared his knowledge with all the participants. Simply fascinating!"
 
University Students
On the following day Grandmaster Sam Chin continued to Plovdiv with his wife and son. On 14th November he gave instruction to the EWTO "university master degree" students who were absolving the final part of their studies there – the master's examination.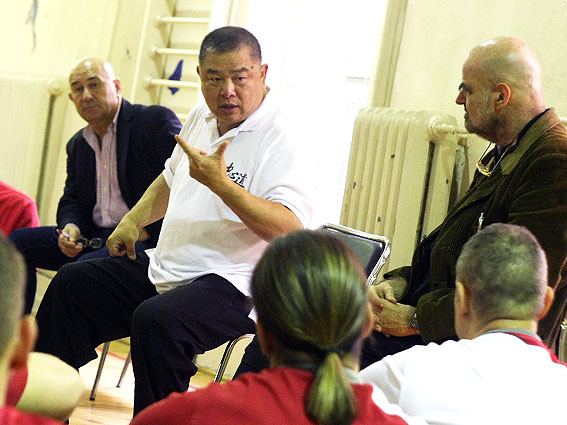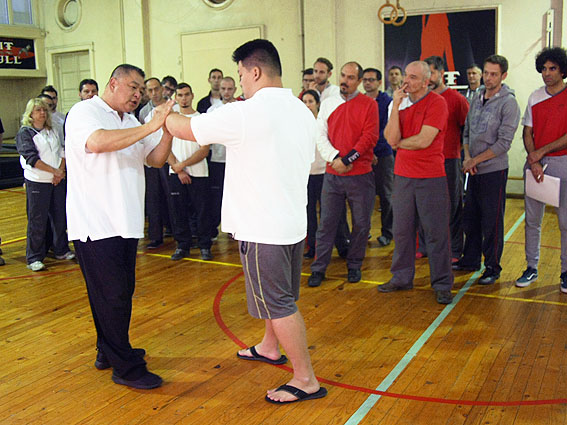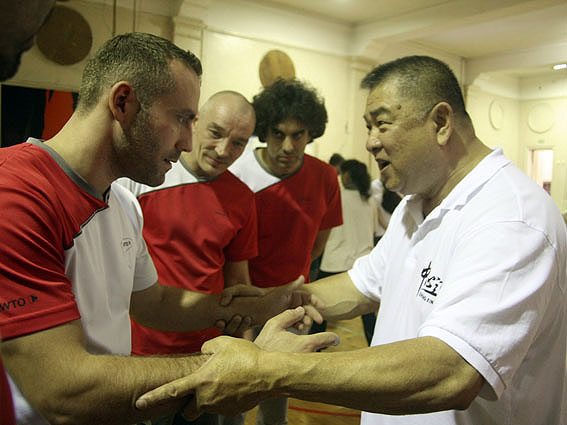 The students were delighted that this introduction to Zhong Xin Dao by GM Sam Chin was part of their curriculum. They were able to become acquainted with a system by a living developer who answered all their questions in detail, so that no suppositions were necessary to understand movements from ZXD. This grandmaster, who had learned the system from his father and developed it further himself, was able to give well-founded answers.
 
Honorary professor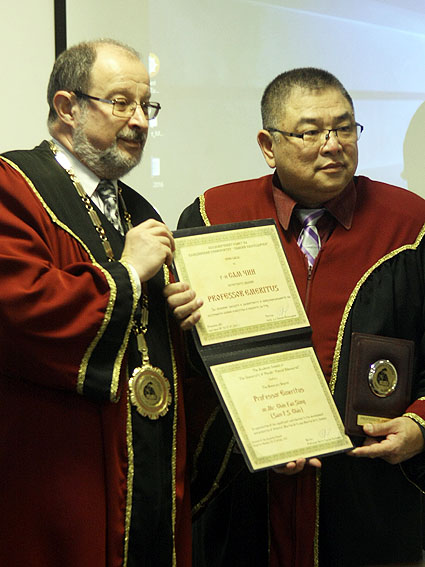 15th November was a great day for GM Sam Chin personally. He was awarded an honorary professorship by the "Paisij Hilendarski" University in Plovdiv, and is now entitled to call himself Prof. h. c. Sam Chin. This honours the life's work of a fascinating personality. It was Prof. Dr. Keith R. Kernspecht who proposed him for this recognition, supported by Prof. Margaritov, the Sports Education Dean of the University in Plovdiv, and the University followed the proposal.
GM Chin's disciples from all over the world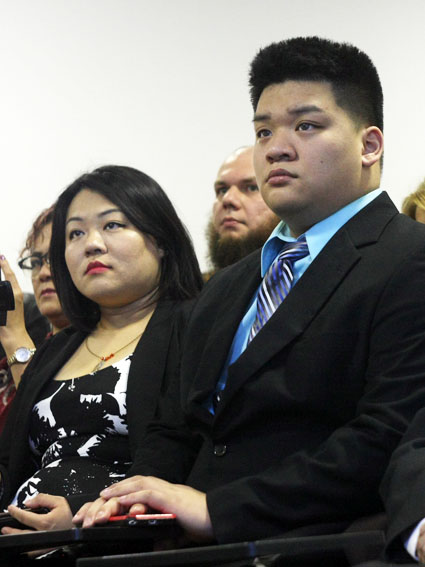 GM Chin was duly installed with true ceremony by the Rector, Prof. Kozludzhov. GM Chin's wife, his daughter Yen and his son Hsin were among the guests, proudly and attentively following the ceremony with Prof. Chin's disciples (todai), who had come together from all over the world for the occasion: e.g. from Russia, Ukraine, Belarus, Poland, England, Austria, Canada, the USA.
GM Kernspecht showed them his respect and welcomed them as his and Natalie's "Sihings and Sijes" in this demanding martial art which will be spread undilutedly as a stand-alone disciple for connoisseurs under the umbrella of the EWTO.
We would like to add our own congratulations, and look forward to further exciting and inspiring encounters with Grandmaster Prof. Sam Chin, his son Hsin Chin, and Zhong Xin Dao!
Text: hm
Photos: hm/EWTO Bulgaria